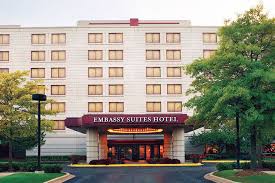 Welcome To the
Embassy Suites by Hilton Chicago- Deerfield
, which offers a full-service all-suite hotel in Deerfield, IL. Relax in our revitalized lobby and atrium featuring fireplaces and soft seating. Savor All-American favorites with a fun twist at Cadwell's Grille & Lounge or unwind by the fire at the lounge, enjoying micro-brews, cocktails, appetizers and entrees.
A Group rate of $109 for King Suites, $129 for Double Suites, or $239 for Presidental Suites per night for the 69th Annual International Lily Show & Symposium is available until June 5, 2016. Reservations can be made by calling
+1-847-945-4500
, please request the group rate for the
"North American Lily Society"
group, use the Embassy Suites's convenient reservation system at their
North American Lily Society Reservation
link, or click on our HOTEL RESERVATION button at the top of this page.
Please NOTE:
If you request hotel reservation for the 6th to the 10th the group rate is automatically applied.
The group rate is available for three days before and three days after the 69th Annual International Lily Show & Symposium, subject to availability.
If you want to arrive early or leave later than the event dates, please follow the procedure outlined below;
Book the nights you want for July 6th to the 10th inclusive.
Call Crystal Thomas at 1-847-945-4500, or email her at cthomas@destinationhotels.com , to request the extra days before and/or after the 69th Annual International Lily Show & Symposium.
Please make early hotel reservations, because the extra days at our group rate are subject to availability.
Located 14 miles from Chicago O'Hare International Airport, this hotel in Deerfield offers the perfect suburban setting amidst Fortune 500 companies. Settle in to your spacious two-room suite with home-like amenities including two flat-screen TVs, a wet bar area with a refrigerator, microwave and coffeemaker.
Discover great value with complimentary cooked-to-order breakfast each morning and our complimentary Evening Reception*. Dine in the restaurant or on busy days, choose from our delicious in-room dining options. Keep on top of work at the BusinessLink™ Business Center and take advantage of our express mail services.
Parking:
Accessible parking spaces for cars in the self-parking facility.
The Embassy Suites Hotel DOES NOT provide shuttle service from the Airport, please review alternative transportation below;
Suburban Taxi Dispatch Service:
Since 1975,
American Taxi Dispatch, Inc.
has been the largest suburban taxi dispatch service in Chicago. You can pre-order your taxi at
www.americantaxi.com/order
and call
847-255-9600
, after you collect all your luggage, to let the dispatcher know of your arrival. Or you can call
1-800-244-1177
, after you have all your luggage, and your taxi will be at the middle lane in about 10 minutes.
The Suburban Taxi rate from Chicago O'Hare Airport to Deerfield is $32, and the rate from Chicago Midway Airport to Deerfield is $62.
For additional information about Airport Terminal pickup, please reference the
Airport page
of the American Taxi Dispatch, Inc website for appropriate passenger pickup location.
Airport Shuttle Service:
GO Airport Express is the premier shuttle ground transportation provider for Chicago's O'Hare and Midway Airports. They offer efficient and economical shared ride shuttle services, and their shuttles depart from O'Hare and Midway Airports every 10 minutes for Chicago downtown and suburban hotels/residence. For shuttle reservation call 1-800-284-3826 and use corporate code "SUB". Please call 24 hours in advance to make a reservation (since they are going way out into the suburbs). The approximate cost of the shuttle is $52 from O'Hare and $86 from Midway.


Chicago O'Hare International Airport - ORD
Airport Phone: +1 773 894 2421

Driving directions from Airport:
Follow I-90 out of terminal and exit I-294 Tri-State (Milwaukee) north
14 miles to the Lake Cook Rd exit.
Turn right on Lake Cook Rd (east).
Travel about 0.2 mile to the hotel entrance on right.
Distance from Hotel: 14 mi. Drive Time: 25 min.

TRANSPORTATION TO AND FROM AIRPORT:
Type Typical Minimum Charge
Taxi 35.00 USD
Bus Service Call Hotel for Information
Limousine 39.00 USD
Super Shuttle 20.00 USD
Chicago Midway International Airport - MDW
Airport Phone: +1 773 838 0660

Driving directions from Airport:
Cicero North out of the airport. Follow to exit I-55 (West).
North on I-294 to Lake Cook Road exit.
Turn right (east) on Lake Cook Road.
Go 0.2 miles to hotel on right.
Distance from Hotel: 36.4 mi. Drive Time: 75 min.

TRANSPORTATION TO AND FROM AIRPORT:
Type Typical Minimum Charge
Limousine 80.00 USD
Taxi 80.00 USD