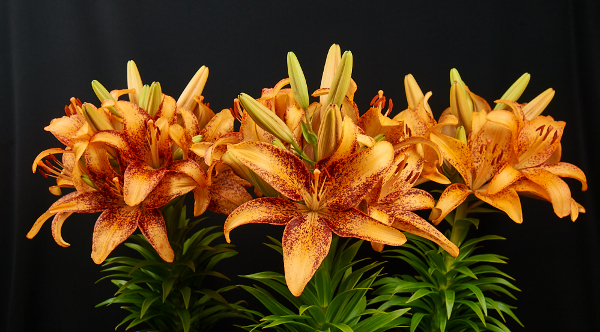 Our annual Lilium Show will be held at the Chicago Botanic Garden in Burnstein Hall, which is an airy room with garden views and access to Runnells Courtyard. This area also features the Garden's renowned Bonsai Collection; it is available year-round and will provide a lovely backdrop for our Lilium Show.

2016 Lily Show Schedules;
2016 Artistic Design Show Schedule
2016 Photography Show Schedule
2016 Lily Show Forms and Guidelines;
If you plan to ship Lilium stems to Chicago for the Lily Show, please download, fill-out, and send this Shipping Request Form to Stephanie Lindemann at the Chicago Botanic Garden. This form will insure appropriate delivery of your shipment at the garden in Chicago.
The 69th Annual International Lily Show & Symposium has the following members organizing the Lily Show and Symposium;
Show Co-Chairs - David Maltby & Mary Zocchi
Registration - Ede Strand & Stephanie Sims
Show Schedule - Kathy Andersen
Horticulture Judge - Kathy Andersen
Classification - Nigel Strohman
Awards - Jocelyn Thayer
Tabulation - Jim Daniel
Floral Design - Kathleen Hoxie
Show Room - David Maltby
Staging Room - Jeff Stiller
Display and Exhibits - Ieuan Evans & Wanda Lunn
Clerks and Volunteers - Gail Summers
Convention Program - Stephanie Sims
Speakers Liason - Larry Diehl
Photography Contest - Frans Officer
Research Trust Auction - Vijay Chandhok
Decor & Signage - Lynn Slackman
Catering - Tricia Kincheloe & Suzi Worsham
Advertising and Publicity - Peggy Nerdahl & Lynn Slackman
Chicago Sightseeing - Peggy Nerdahl
Website - Lynn Slackman
Show Photography - Art Evans
Audio Visual and Recording - Art Evans
Bring your beautiful flowers and creativity to Chicago...My Home Town, at the 69th Annual International Lily Show & Symposium!