Brent Heath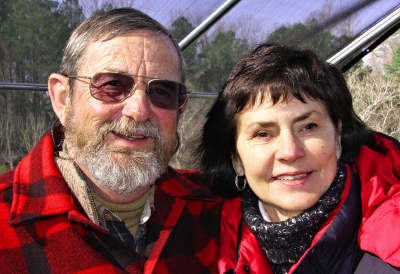 Brent Heath is a third generation bulb grower and co-owner with his wife, Becky, of Brent and Becky's Bulbs, a wholesale/retail mail-order flower bulb catalogue and web site business that provides numerous types of bulbs to many botanical gardens, cities, universities, landscape designers and discriminating gardeners across the country.
Brent and Becky have moved their business to a new facility in Gloucester, Virginia and they now have a retail outlet, The Bulb Shoppe, where you can buy bulbs, garden related items and gifts or pick up a previously placed order. Right outside The Bulb Shoppe is the 'Chesapeake Bay Friendly Teaching Garden' where many themed garden rooms show that it is possible to have a bulbs, perennials, annuals, flowering trees and shrubs growing happily together in an earth friendly way.
Brent and Becky received a Gold Medal of Honor from the Massachusetts Horticultural Society in January 2001 for "…horticultural leadership, promoting the use of a wide variety of bulbs in the garden". The American Horticultural Society honored the Heaths in June 2001 by awarding them the Individual - Commercial Gold Medal for "…commitment to the highest standards of excellence in the field of commercial horticulture". And in August 2002, the Garden Writer's Association presented Brent and Becky Heath with a lifetime achievement award by inducting them into the Garden Writer's Hall of Fame. After a yearlong study, The Wall Street Journal voted 'Brent and Becky's Bulbs' the 'Best Bulb Company in America'. In April 2003, The American Daffodil Society awarded Brent with a Gold Medal of Honor for popularizing and promoting the use of daffodils, and the National Garden Club of America awarded Brent their Gold Medal in 2007. In April 2011, the Garden Club of America honored both Brent and Becky by inducting them into the organization as Lifetime Honorary Members.
Brent Heath's Presentation Lovely Long-Lasting Lilies and Awesome Alliums; As spring turns to summer, a real garden treat awaits you as alliums and lilies unfold their myriad of colorful and often fragrant blossoms. We will look on overall samples of each genus and discuss best cultural practices to keep them blooming repeatedly for years. We will also include the most effective design uses for the garden and landscape.
Brent Heath's Presentation Bulbs as Companion Plants; Whether you are planning to plant bulbs in a fresh, newly prepared empty garden, or whether you are adding them to an already existing one, this seminar will have the answers for you! With exquisite slides illustrating the seminar, you will be introduced to the best of the best...the right bulbs for the right spots. You'll learn how to combine bulbs, perennials, annuals, ground covers and flowering shrubs that will create just the feeling you want to generate for four seasons in your garden. After seeing and experiencing this seminar, you'll leave with information and inspiration to produce a garden that you, your neighbors and friends will enjoy all year.